On the banks of the Tagus River
The town of Brozas is located in the county of Tajo-Salor-Almonte, in the so-called Lands of Alcántara.
Its geographical situation, the extent of its municipal area and its proximity to the Portuguese border all made it a point of reference within the province. Brozas Castle, in the upper part of the town, is part of the memory of its past, another highlight of which is having been the seat of the Grand Commandry of the Order of Alcántara.
The construction of the Castle-Palace of the Grand Commandry of Alcántara lasted from the 14th to the 17th centuries. The keep was built during the first stage of construction. The building was almost entirely rebuilt at the end of the 16th century, which is also when its wall began to be erected.
Other highlights of Brozas include the Parish Church of Nuestra Señora de la Asunción, the parish church dedicated to the holy martyrs and the hermitages dedicated to Saint Barbara and Saint Anthony,
as well as the Las Comendadoras and Encarnación convents, the old Hospital of Santiago, the Brocense House and imposing stately homes such as that of the Ortiz, Flores and Arce families. They are all worth a visit to discover what lies inside and the distinctive features that have marked Brozas' past.
The Ortiz House, or 'brick house', includes modernist decoration with a curious neo-Mudéjar aesthetic. The Brocense House is completely built from ashlars, while the Arce House stands out for its ironwork.
There are also very interesting buildings from the historical and artistic point of view, outside the town centre. Highlights include the Convent of Nuestra Señora de la Luz; the hermitages dedicated to Jesus, Saint Lucia, Saint John, Solitude, Saint Gregory and the Eternal Father; the bridge over Jumadiel stream; the Old Araya House and the La Greña House, as well as numerous wayside crosses and milestones.
Weather
Alcántara
2Oct

17 ºC
34 ºC
3Oct

17 ºC
34 ºC
4Oct

16 ºC
34 ºC
5Oct

16 ºC
34 ºC
6Oct

17 ºC
35 ºC
7Oct

18 ºC
35 ºC
If you like Brozas Historical Site you will like this too...
More things you can find in Tajo Salor Almonte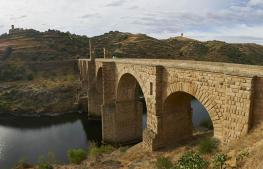 The Roman bridge in Alcántara was built between the years AD 104 and 106, and in 1924 was declared an Asset of Cultural Interest in the Monument ca