Coria is the most important city in the north-eastern area of Cáceres, known for its rich historical and heritage value, including its cathedral.
This grand structure rises up out of the southern stretch of the Roman wall. Coria's Cathedral de la Asunción was built between the 16th and 18th centuries to replace an older church of which only the 14th-century cloister remains.
Gothic-Plateresque in style, it also features Baroque additions, as the building work extended from the end of the 15th century until finally concluding in the 18th century, resulting in interesting layers of historical and artistic styles.
The cathedral has two entrances: the door on the northern wall is the work of Martín de Solórzano, while the southern door (the Door of Forgiveness) is in the Plateresque style. A Gothic pointed arch window stands above this second door, although its structure and decoration are Renaissance in style. This façade was designed by Pedro de Ybarra.
The exterior includes an eye-catching bell tower designed by Manuel de Lara Churriguera. Its large width in relation to its height gives it a squat appearance.
Inside the cathedral is a wonderful collection of paintings, sculptures and precious metalwork. One highlight is the 18th-century high altarpiece and the tombs of the bishops Jiménez de Préxamo and García de Galarza. Another important feature is the choir, with a walnut stall in the Mudéjar style from the 15th and 16th centuries, enclosed by an Early Renaissance railing from the 16th century.
The cathedral is home to one of the most important relics from the time of Jesus Christ: the tablecloth from the Last Supper. It can be seen in the Cathedral Museum together with other valuable items, especially precious metalwork, codices, images, etc.
In 1931 the cathedral was declared an Asset of Cultural Interest in the Monument category.
Weather
Coria
2Oct

17 ºC
34 ºC
3Oct

16 ºC
34 ºC
4Oct

16 ºC
34 ºC
5Oct

16 ºC
34 ºC
6Oct

16 ºC
35 ºC
7Oct

18 ºC
36 ºC
If you like Coria Cathedral you will like this too...
More things you can find in Valle del Alagón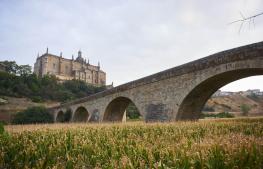 The historic centre of Coria has been considered an Asset of Cultural Interest in the Historical Site category since 25 May 1993.