Guadalupe Historical Site
Much more than a monastery
Guadalupe is known for its famous monastery, but the town is home to other architectural, town-planning and cultural landmarks that resulted in it being declared a Historical-Artistic Site in 1943.
The Royal Monastery of Guadalupe was built in the 14th century. It soon became one of the most outstanding religious and cultural centres in the Iberian Peninsula.
The rise of the monastery caused the town to grow as well. It has a spontaneous layout characteristic of the Middle Ages, with winding streets and highland architecture typical of the building models used in the towns in the north of the province of Cáceres.
The homes in Guadalupe were built using ashlars around the openings, wood and adobe, and are usually whitewashed. These porticoed, grouped buildings with different heights give the streets and squares a certain dynamism.
The houses usually have two storeys, with the upper floor projecting on wooden beams, with wooden balconies being common as well.
The Royal Monastery of Santa María de Guadalupe stands in the heart of the town, in the middle of the Plaza Mayor square. This area and its surroundings are home to the best examples of highland architecture.
Visitors can find some remnants of Mudéjar art that can be seen in the monastery's cloisters, doorways and coffered ceilings.
One must-see building is the Colegio de Infantes, also known as the Colegio de Gramática, an old humanities and religious hymn school. Of the old network of lodgings and hospitals that helped look after pilgrims and sick people between the 14th and 16th centuries, there are still the monks' infirmary and Hospital of San Juan Bautista, where surgery was performed for the first time in Spain. Walking through the town, you can also find other iconic buildings such as the Baroque Church of La Santa Trinidad or the New Church, the old Jewish Quarter and the remains of the wall.
Weather
Guadalupe
2Oct

19 ºC
34 ºC
3Oct

19 ºC
34 ºC
4Oct

20 ºC
33 ºC
5Oct

19 ºC
33 ºC
6Oct

19 ºC
33 ºC
7Oct

20 ºC
33 ºC
If you like Guadalupe Historical Site you will like this too...
More things you can find in Villuercas Ibores Jara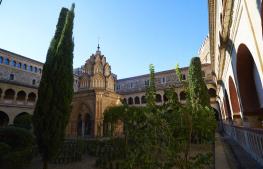 Legend has it that in the early 14th century, in the valleys of Las Villuercas, the cowherd Gil Cordero was looking for a lost cow from his herd,