Valencia de Alcántara Historical Site
Valencia de Alcántara is a town in the county of Sierra de San Pedro. It is in the west of the province of Cáceres, on the border with Portugal.
The city was retaken from the Moors in 1221 by the Knights of Saint Julian de Pereiro, an old military order that evolved into the powerful Order of Alcántara. The conquest resulted in the town becoming directly dependent on the king as a 'Villa de Realengo'.
The area of the town known as the Gothic Quarter was declared a Historical Site by the Decree of 18 March 1997. It is one of the most interesting Historical Sites in the region in terms of secular Gothic/Renaissance construction. Located in the northern part of the town, the most common style of house has two narrow, deep storeys, with a whitewashed stonework façade and finely worked granite openings.
The doorways usually have a pointed arch form, although there are also doors with lintels and rounded arches. The ground floor façades feature rectangular windows that are usually covered by wrought-iron bars.
The majority of the buildings have a traditional look, with chimneys characteristic of the area's typical architecture, although others, with more presence, have a stately, even noble, appearance, with coats of arms. Another element of the local architecture is the corner balcony.
The area making up the Gothic Quarter was surrounded by a wall that started and finished at the castle, built on a hillock that dominates the site. The wall followed an irregular layout, with five bastions and a keep.
One of the most prominent religious buildings is the Parish Church of Nuestra Señora de Rocamador, built between the 15th and 17th centuries. It is characterised by having a basilica floorplan, with three naves covered by multiple low ribbed vaults, the number and quality of which make this building one of the most representative of Extremaduran architecture.
The Church of La Encarnación has three naves covered by barrel vaults. The Convent of San Bartolomé rounds off the town's religious monuments.
Weather
Herreruela
2Oct

16 ºC
35 ºC
3Oct

18 ºC
34 ºC
4Oct

17 ºC
35 ºC
5Oct

17 ºC
34 ºC
6Oct

17 ºC
35 ºC
7Oct

17 ºC
35 ºC
If you like Valencia de Alcántara Historical Site you will like this too...
More things you can find in Sierra de San Pedro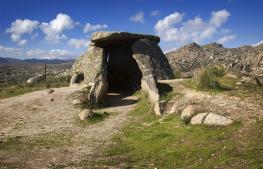 The municipality of Valencia de Alcántara, in the county of Sierra de San Pedro, in the south-east of the province of Cáceres, is home to one of th